Smok Stick Prince Baby Kit with TFV12 Baby Prince Tank
The SMOK Stick Prince Baby Kit is a miniaturized vape pen-style system of the original Stick Prince Kit, with the inclusion of the TFV12 Prince Baby Tank to pair with the newly introduced V8 Baby-Mesh Coil. The Stick Baby Prince is equipped with a 2000mAh rechargeable battery with LED indicators and safety protection installed for a dependable system. The TFV12 Prince Baby Sub-Ohm Tank features a maximum capacity of 4.5 milliliters, new button-lock hinged top-fill, smooth dual bottom airflow control, and the utilization of the TFV8 Baby Coil System. Perfect for vapers looking for beginner-level starter kit or a travel-friendly system for on-the-go!
SMOK Stick Prince Baby Battery Features:
22mm Diameter
83mm Height
Integrated 2000mAh Rechargeable Battery
Stainless Steel Construction
Direct Voltage Output System - 'Smart' Mechanical-Style
Operating Voltage Range: 3.4-4.2V
Single Button Operation - Hexagon Firing Mechanism
Intelligent Battery Life Indicator
8 Seconds Protection
Low Resistance Protection
Short Circuit Protection
Low Voltage Protection
MicroUSB Charging Port - Passthrough Capability
510 Connection
Available in Stainless Steel, Gunmetal, Auto Pink, Black, Red, Blue, Gold, Purple, Green, Rainbow
SMOK TFV12 Prince Baby Sub-Ohm Tank Features:
23mm Base Diameter
26mm Diameter at Widest Point
4.5mL Maximum Juice Capacity
Superior Stainless Steel Construction
Bulb Glass Pyrex Glass - Food-Grade
High-Grade Glass Reinforcement
High-Temperature Resistant
Convenient Top-Fill Rotary Design - Lock Button Mechanism
Massive Dual Adjustable Airflow Control at Base
Compatible with TFV8 Baby Coils
0.15ohm V8 Baby-Mesh Coil
0.25ohm V8 Baby-M2 Dual Coil
Cobra Resin Ultra-Wide Drip Tip
510 Connection
Kit Includes:
1 x Stick Prince Baby Battery
1 x TFV12 Prince Baby Sub-Ohm Tank
1 x 0.15ohm V8 Baby-Mesh Coil
1 x 0.25ohm V8 Baby-M2 Coil
1 x MicroUSB Cable
Spare Parts
Instruction Manual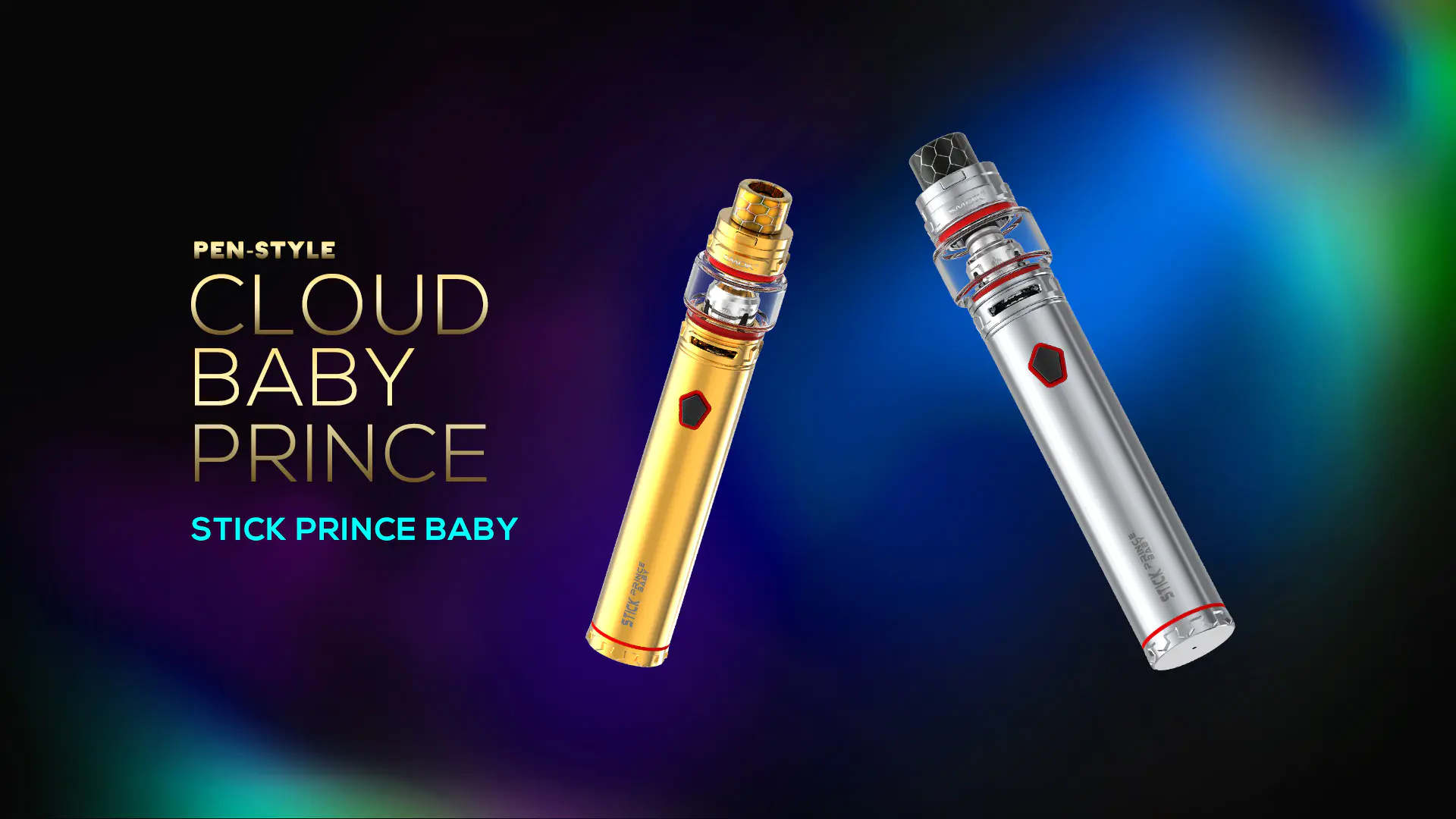 INTRODUCTION
Exquisite and powerful, here comes Stick Prince Baby! It consists of 2000mAh battery and TFV12 Baby Prince tank. The large battery capacity is durable enough for your vaping needs, LED indicator on its body can be your intelligent vaping mate, and the ergonomically designed pentagonal fire key can offer you better hand feel. Besides, it uses newly designed TFV12 Baby Prince, which has 4.5ml capacity, with this large capacity you don't need to fill e-liquid frequently.
Innovation keeps changing the vaping experience!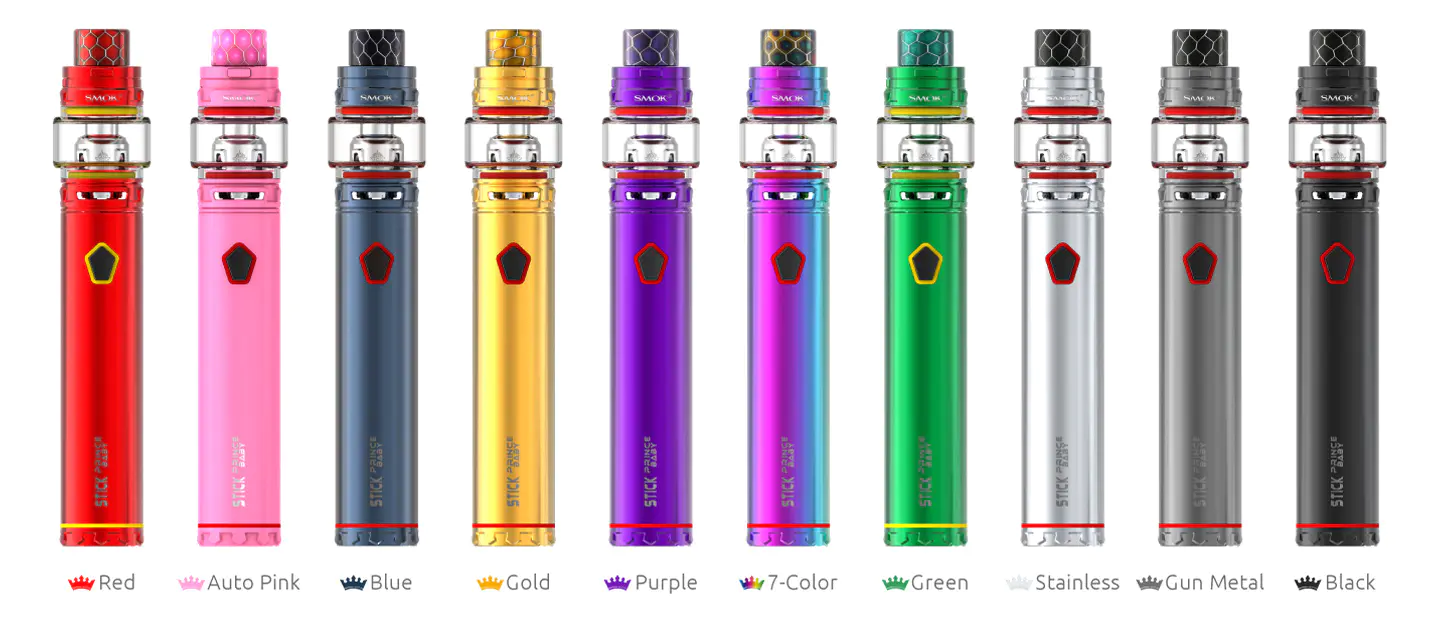 THE KIT INCLUDES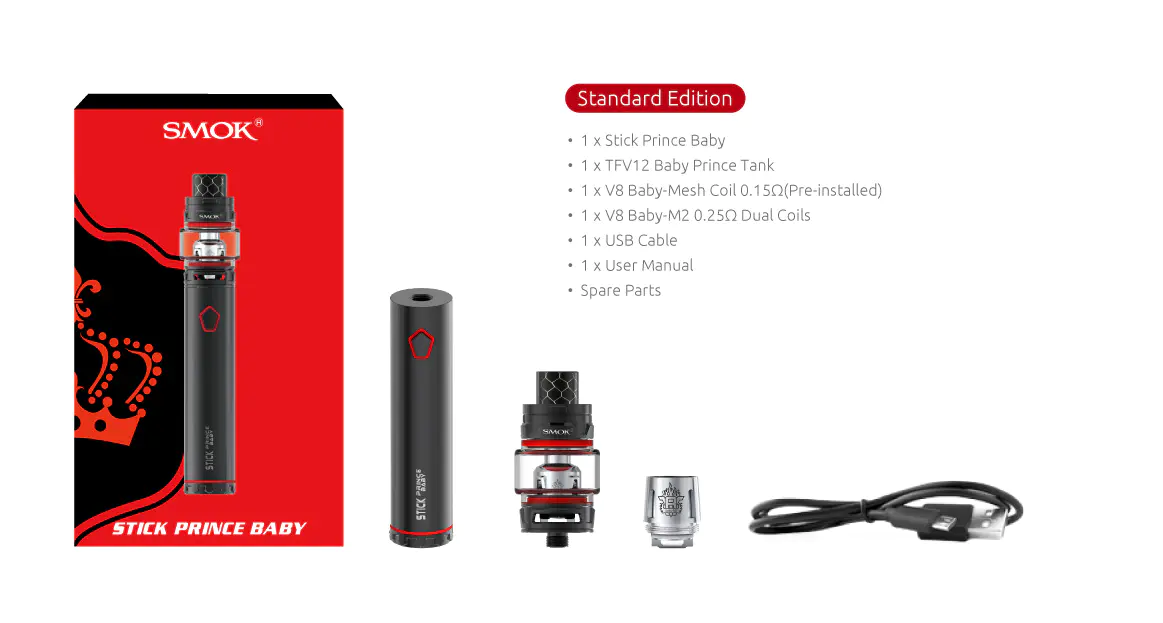 SPECIFICATIONS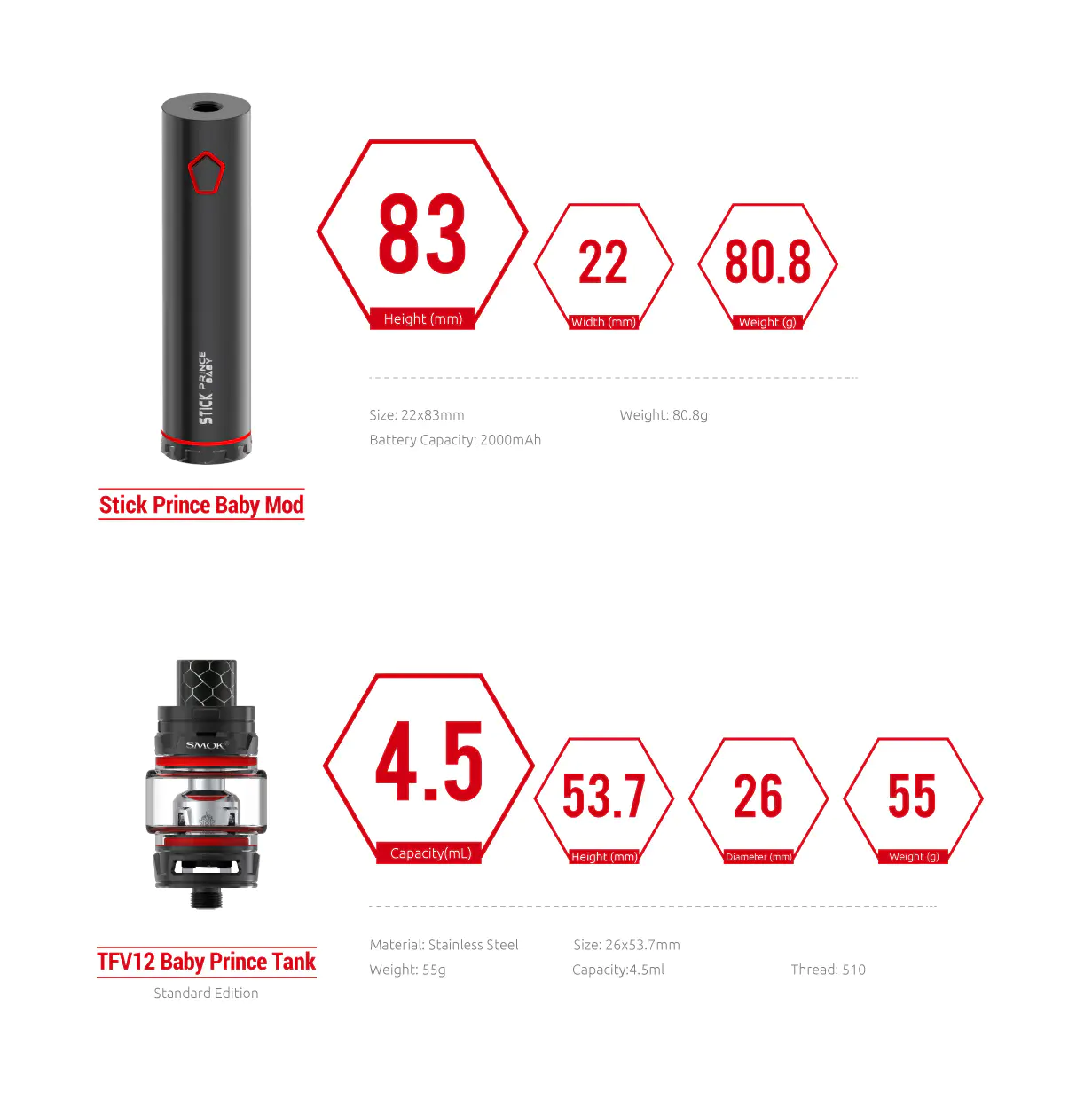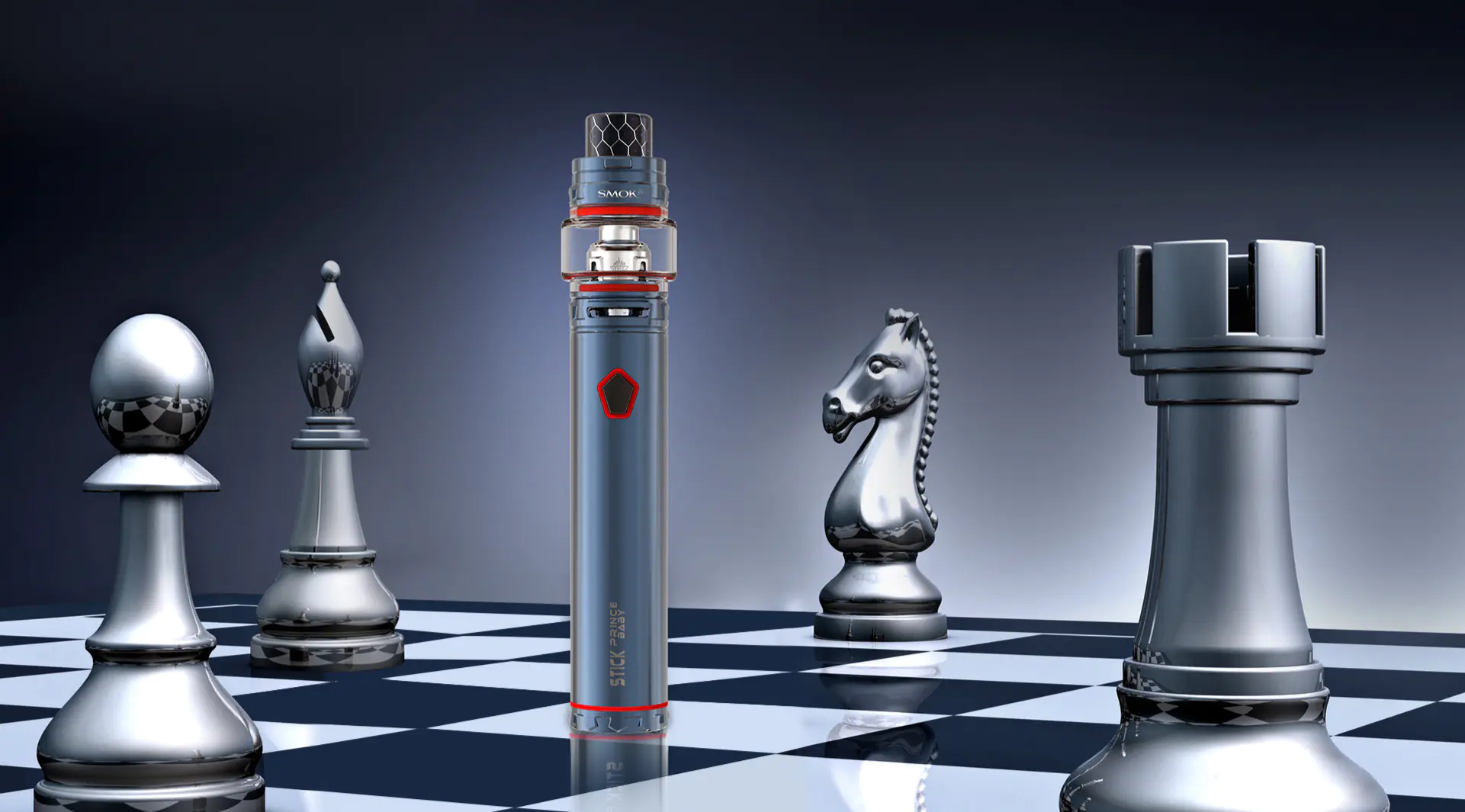 SCHEMATIC DIAGRAM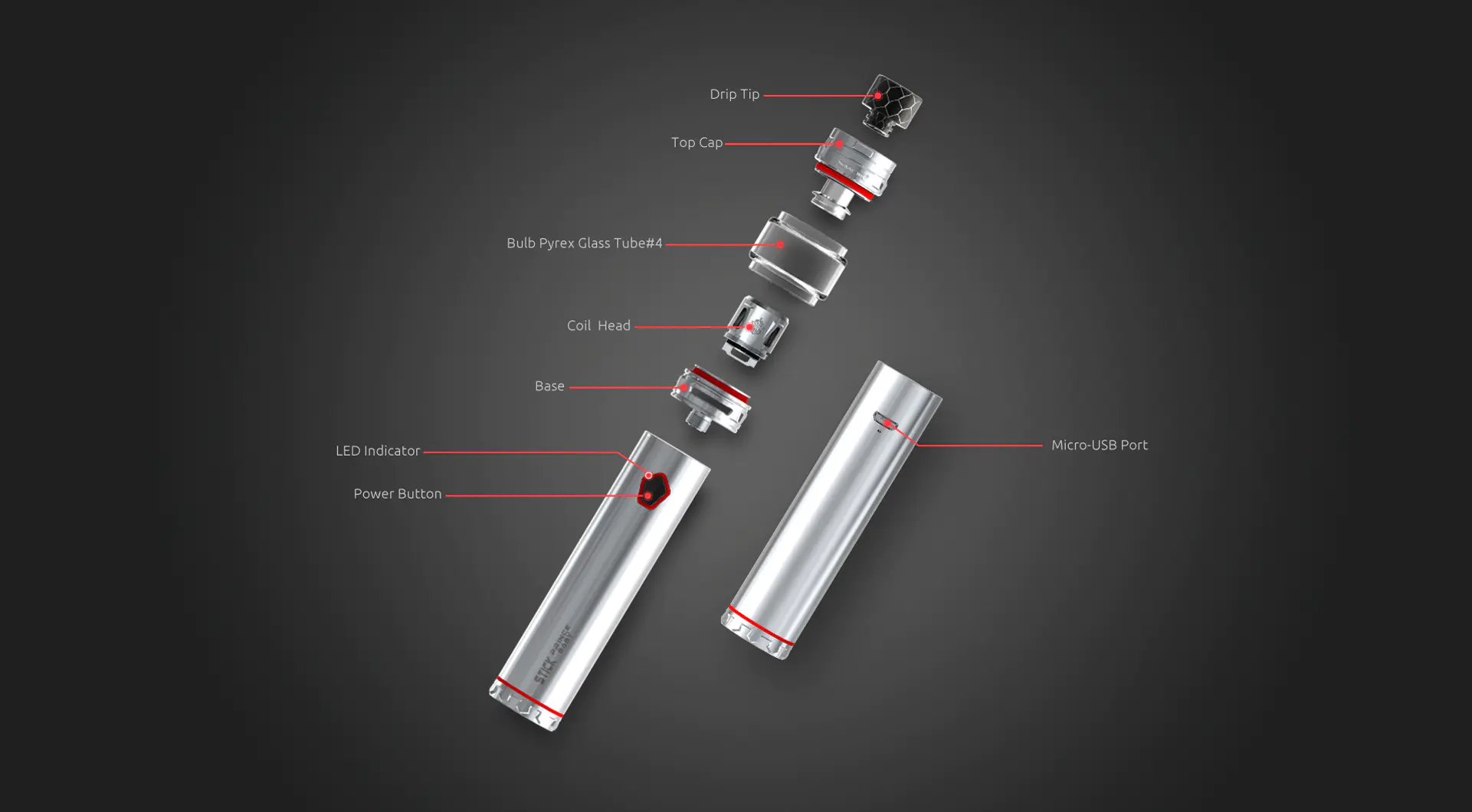 MESH COIL
Mesh coil is a revolutionary new coil, an advanced one in this industry. It has mesh inside, which can effectively enlarge the heating area. When you use this coil you would be surprised by its fast heating process and huge vapor production.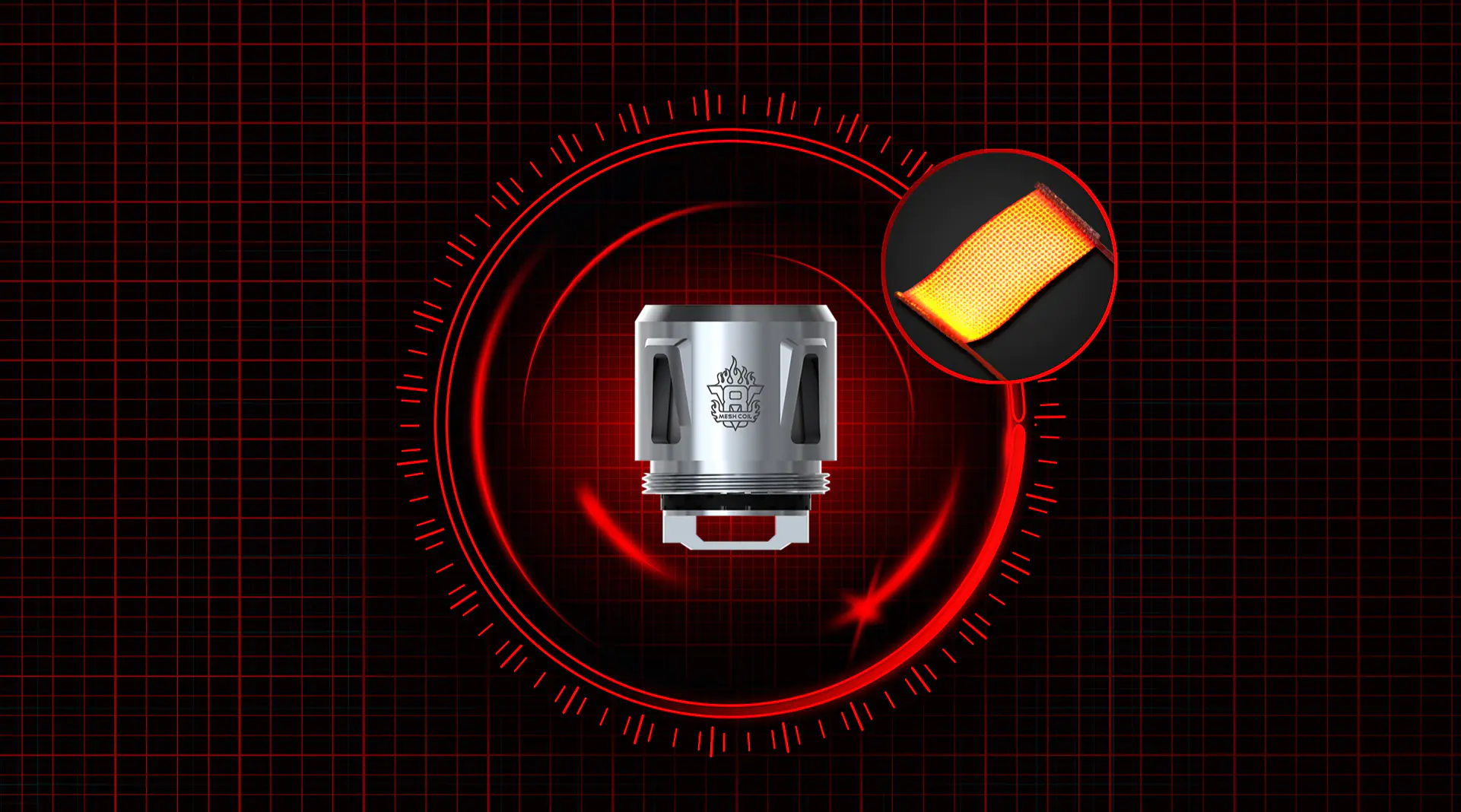 2000mAh BATTERY CAPACITY
Stick Prince Baby employs built-in 2000mAh battery, which can provide enough power for your wonderful vaping time.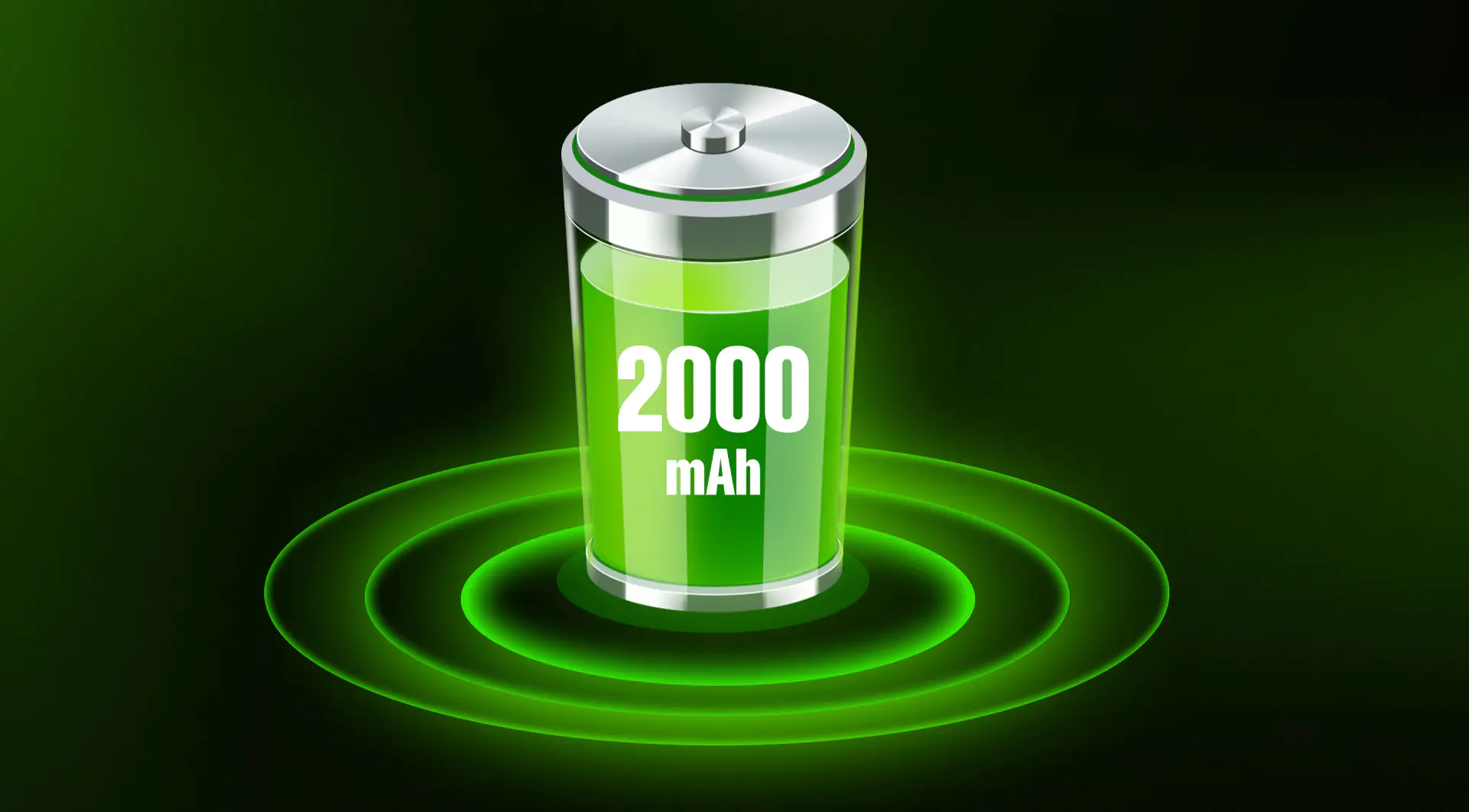 LARGE E-JUICE CAPACITY
The included TFV12 Baby Prince tank employs bulb glass tube # 4, which has 4.5ml capacity, with this large e-juice capacity you can enjoy long-time vaping.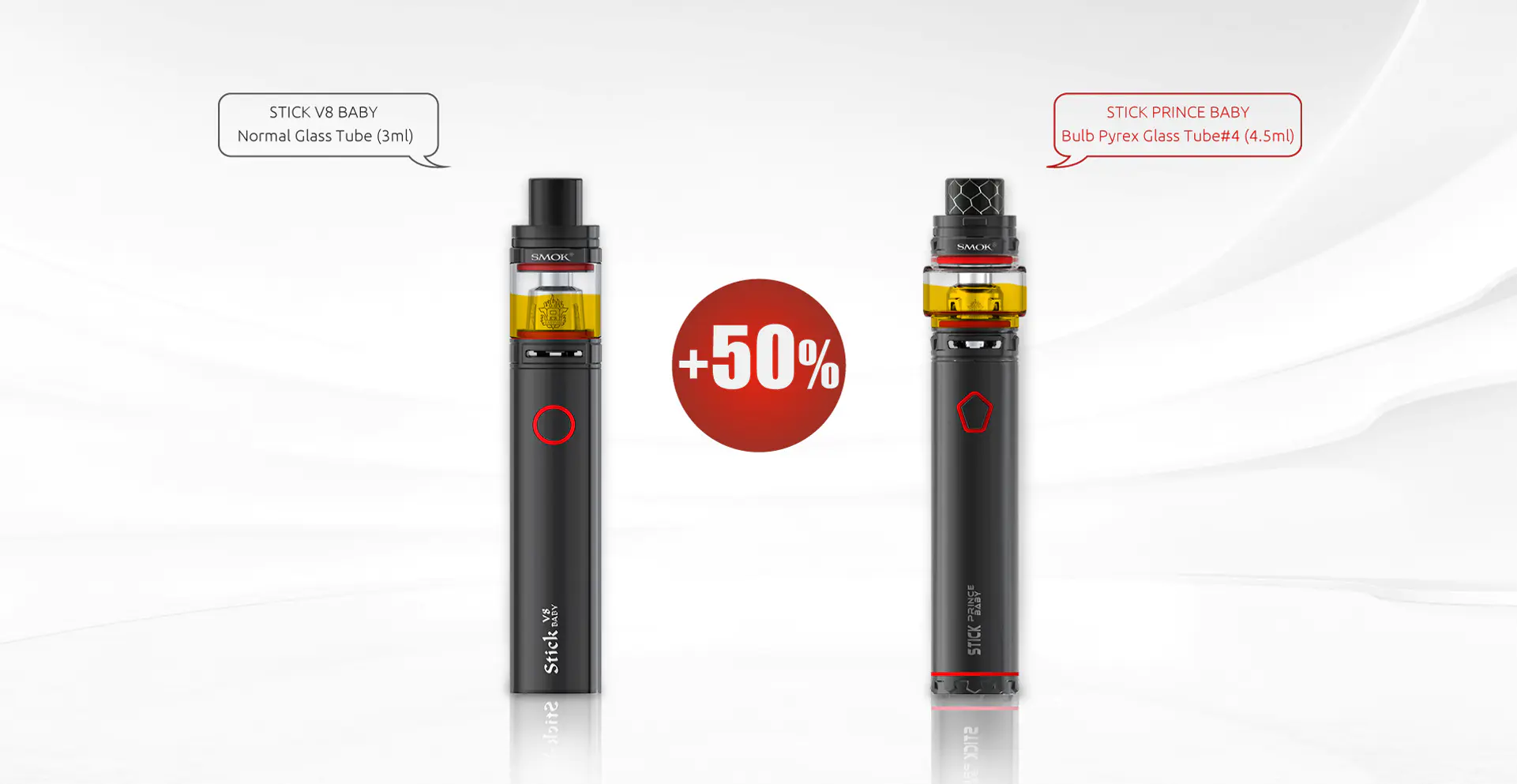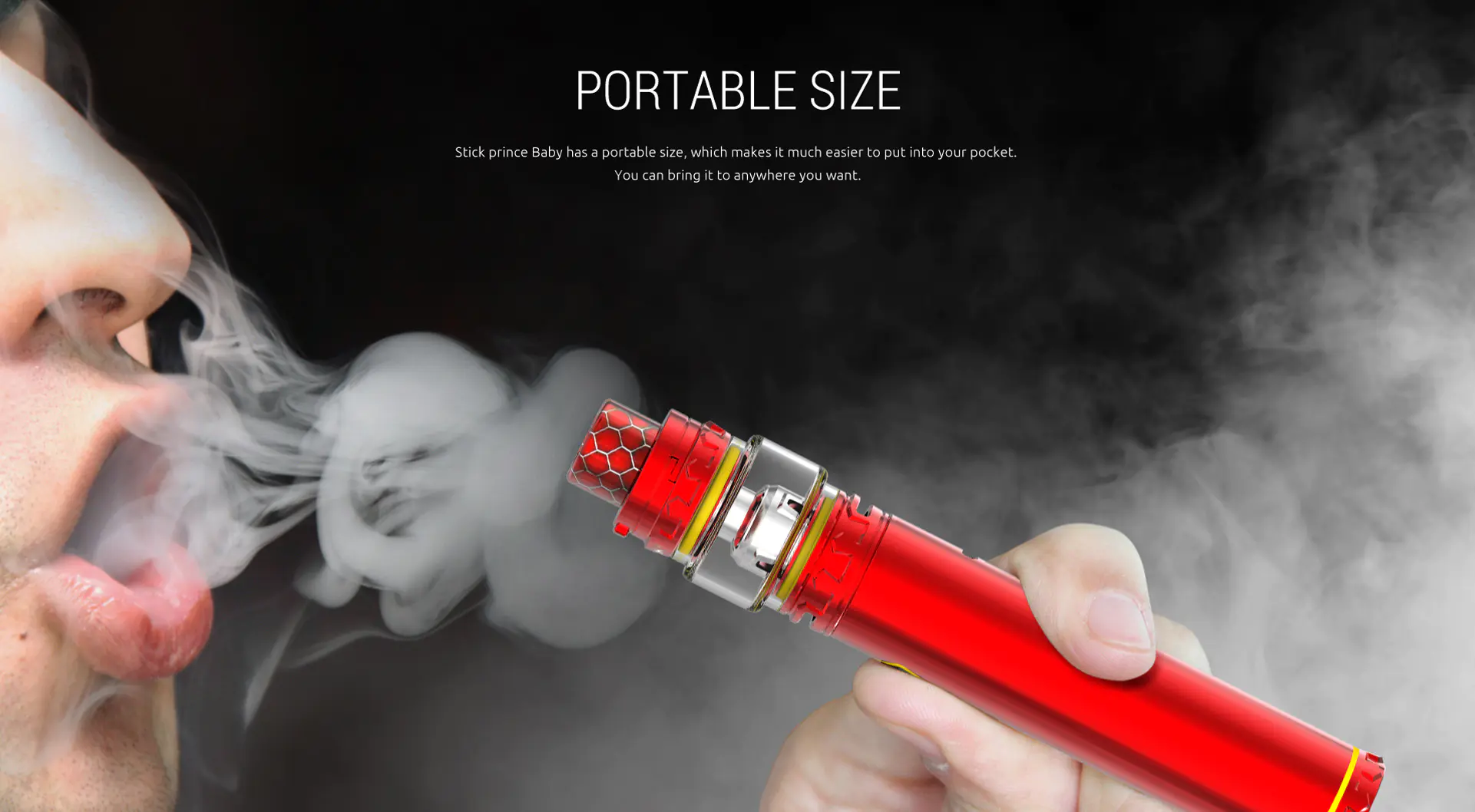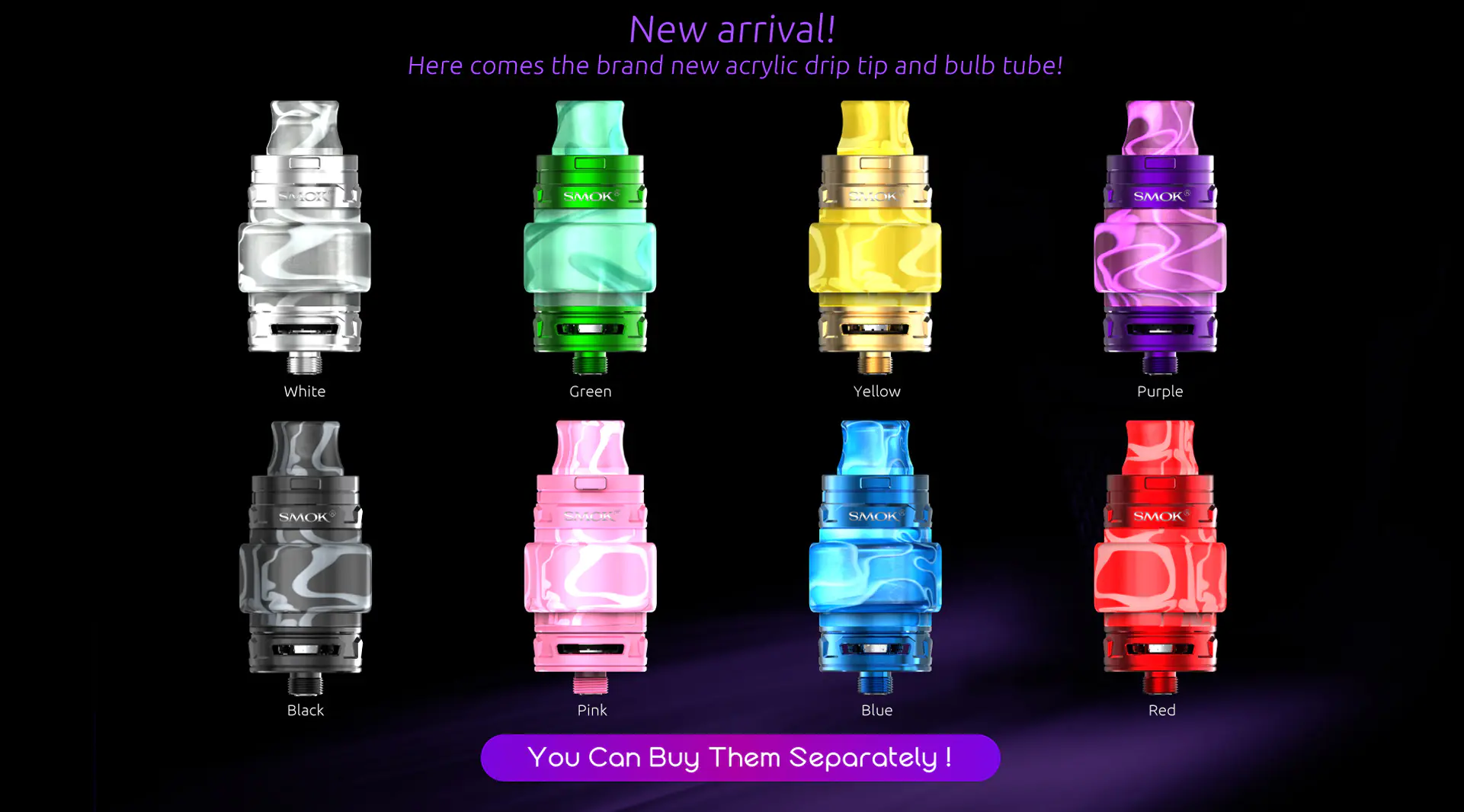 SPECIAL COBRA DRIP TIP
TFV12 Baby Prince tank employs Cobra drip tip, which has wild outlook and special tactility.
Besides, it will bring you increased airflow .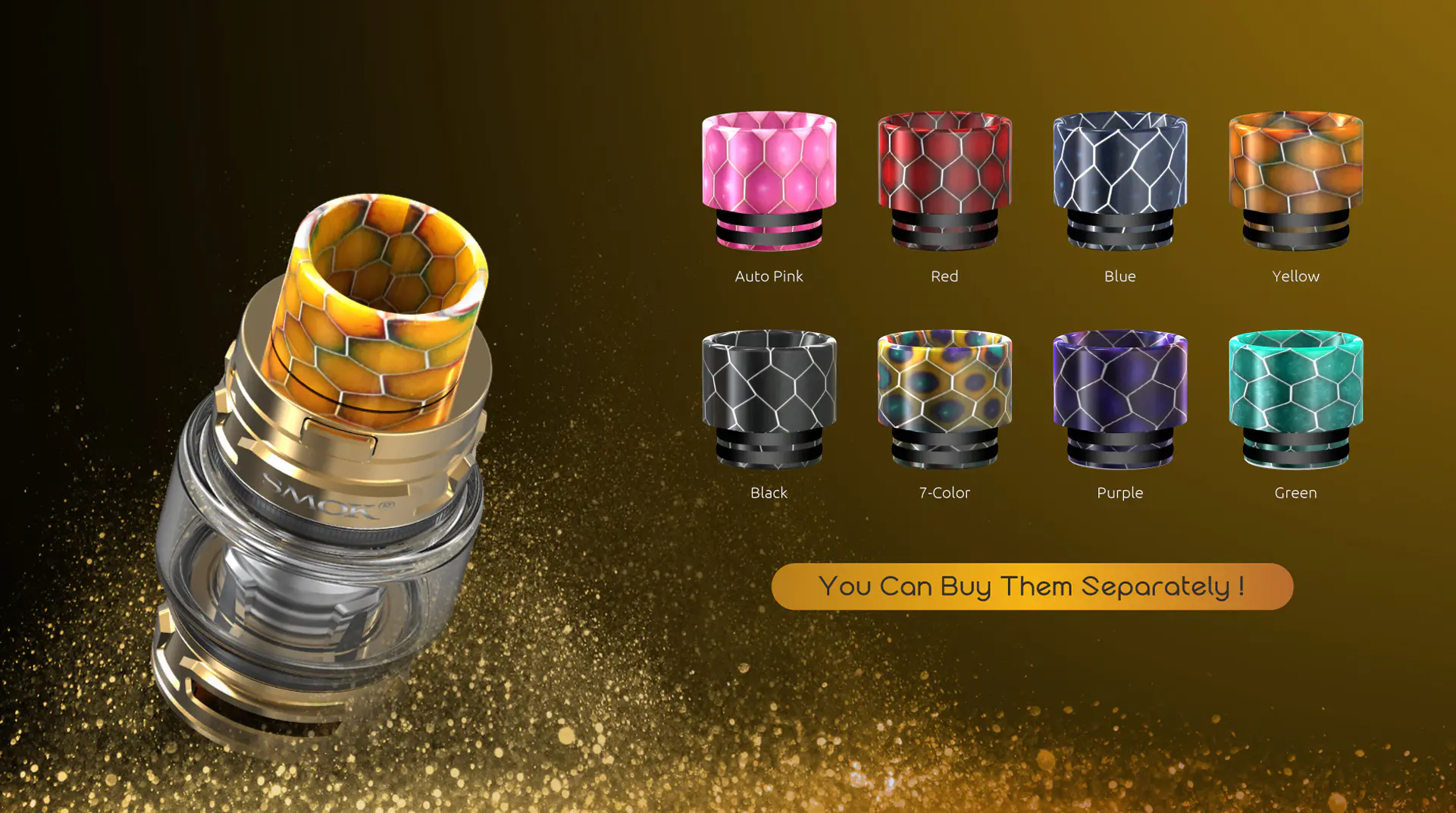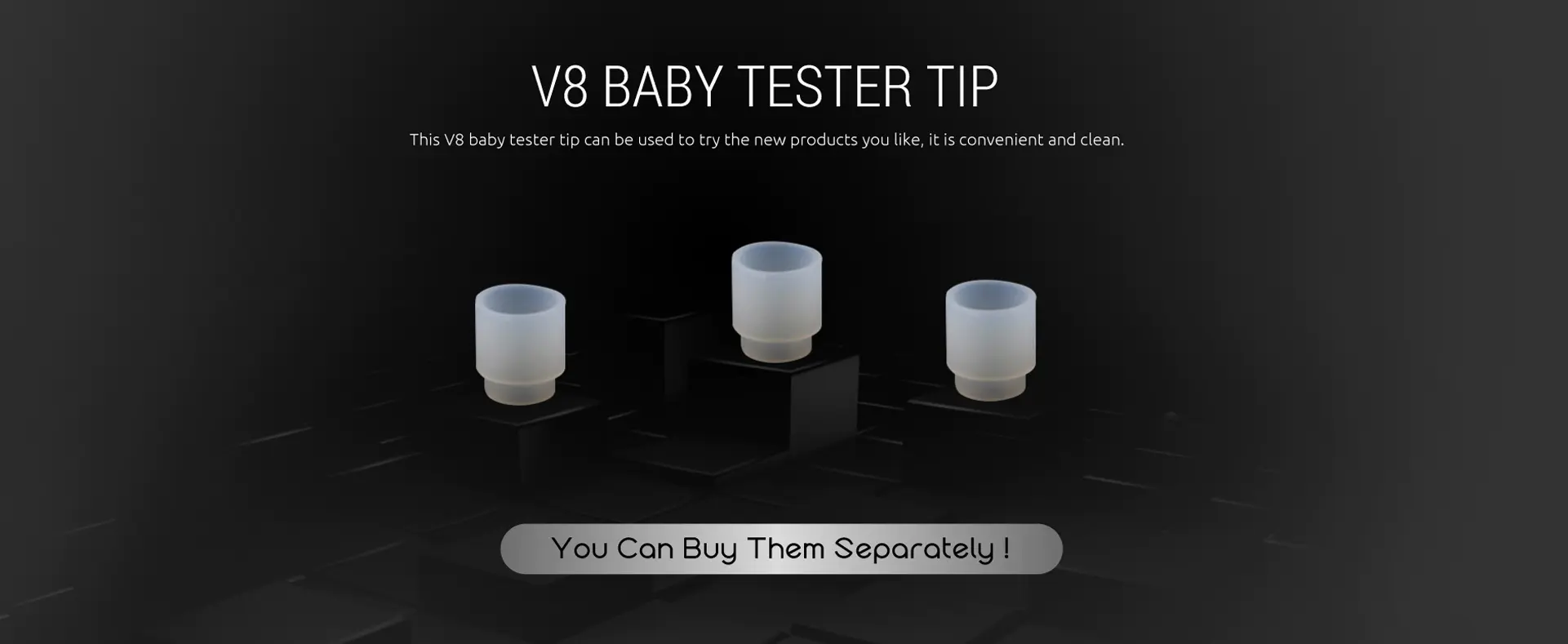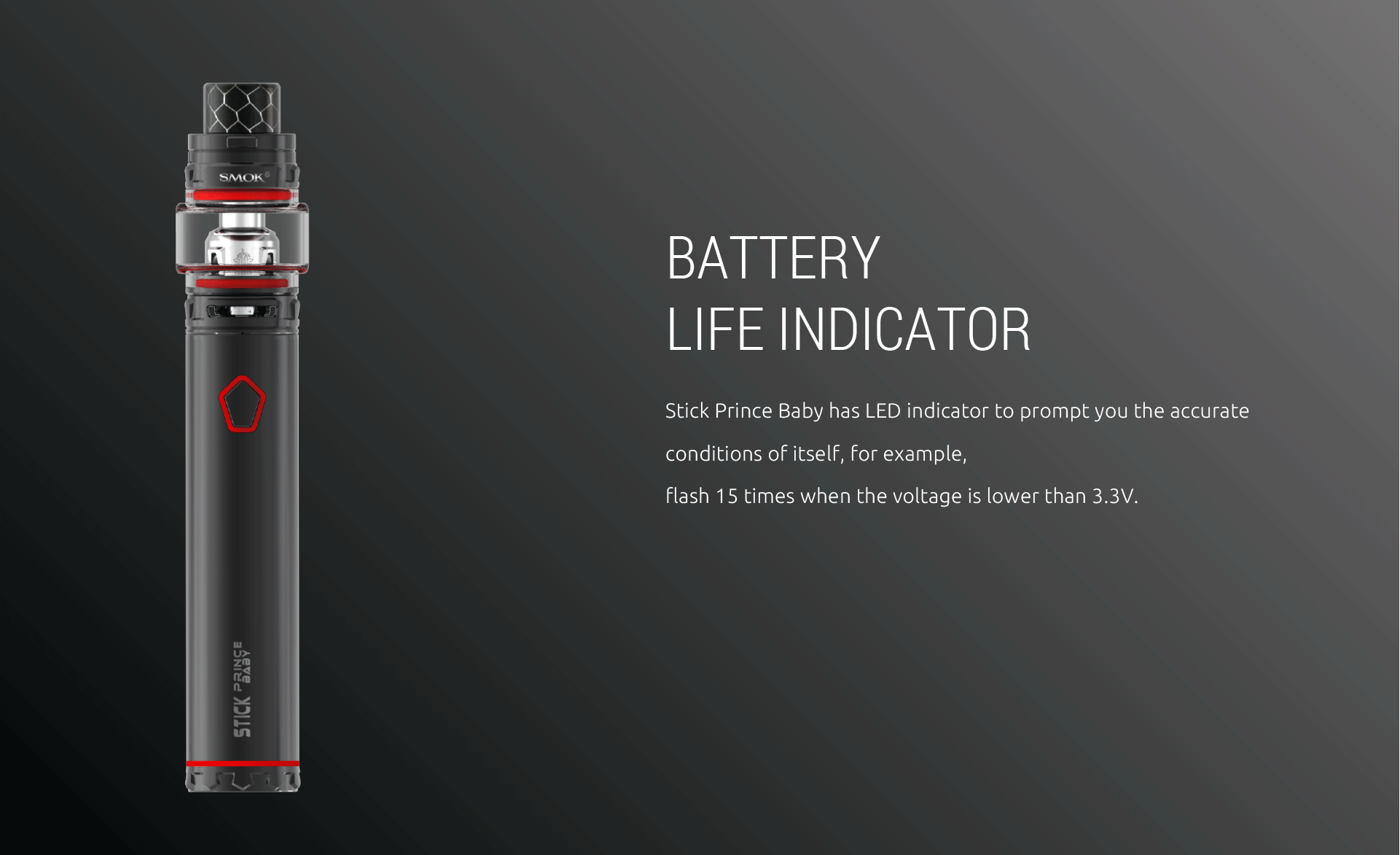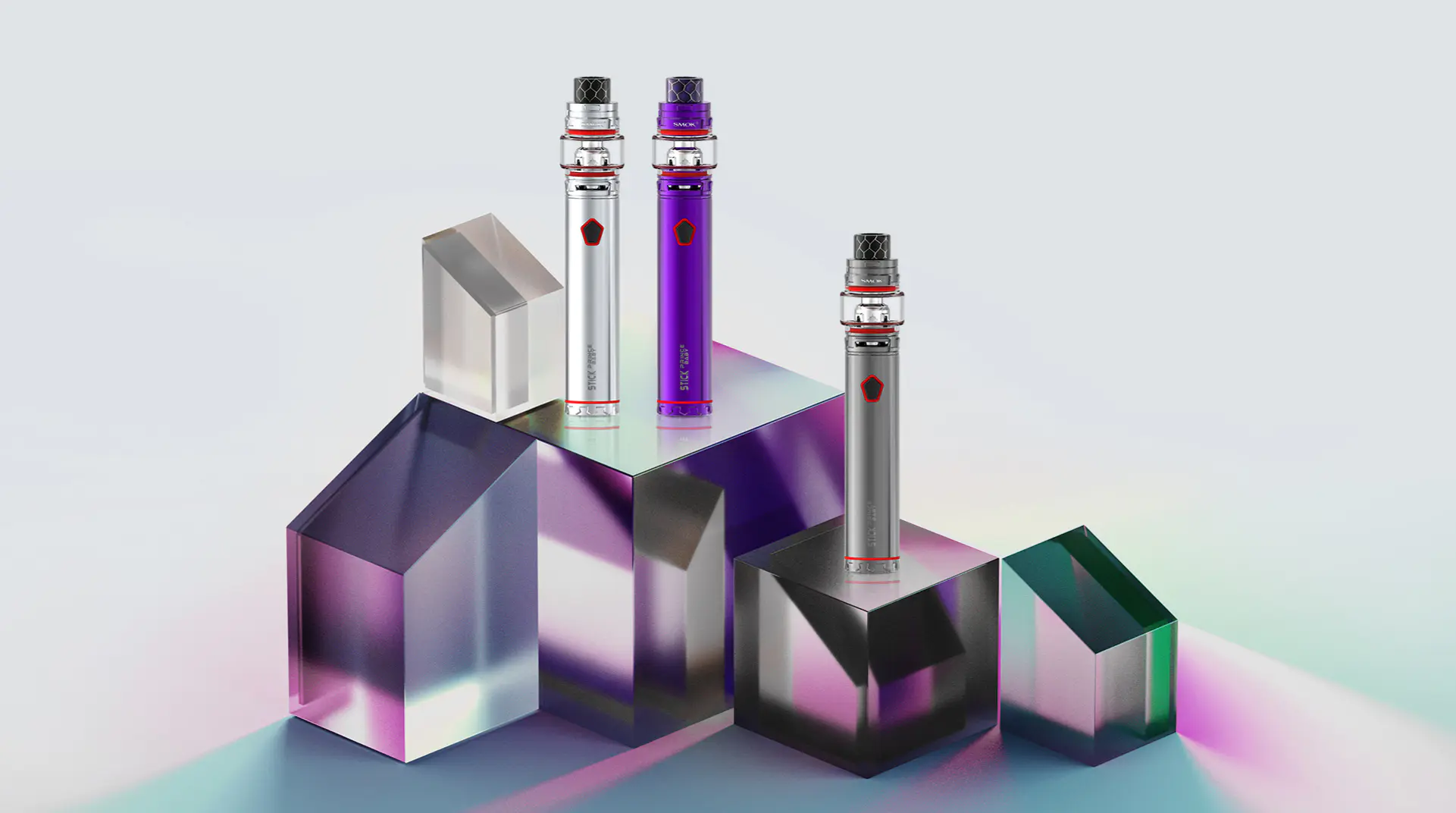 MULTIPLE PROTECTIONS
Stick Prince Baby provides multiple protections to avoid potential risks.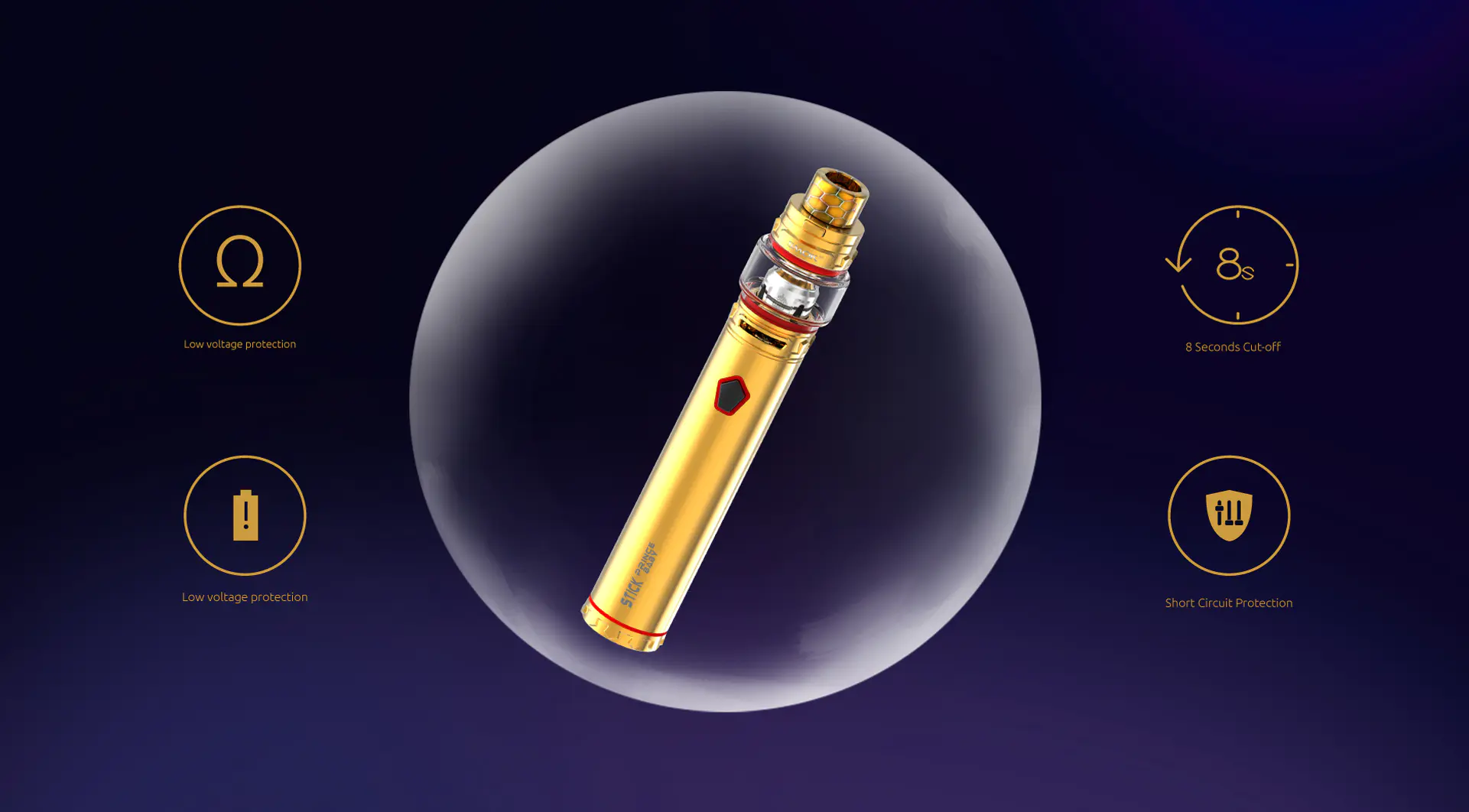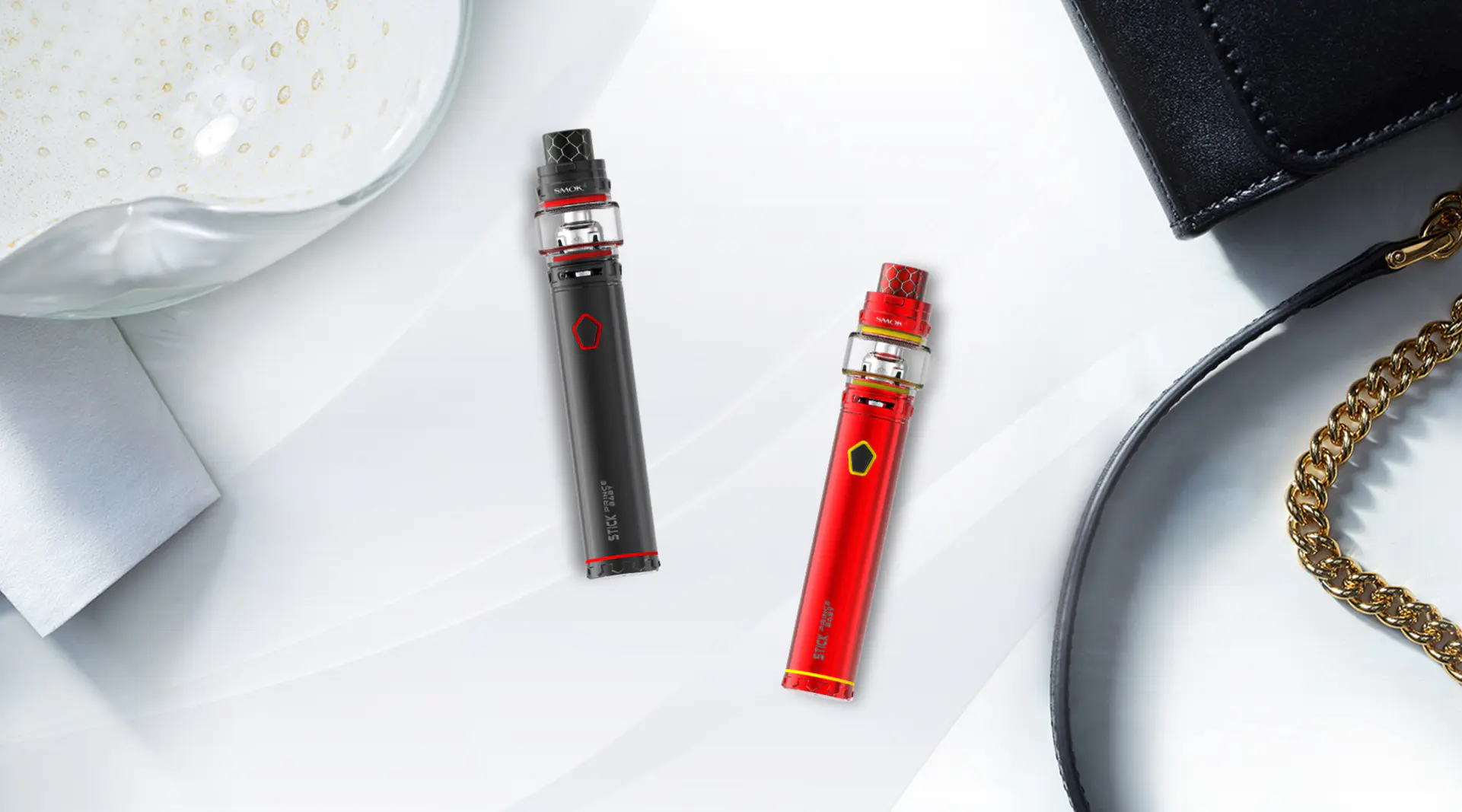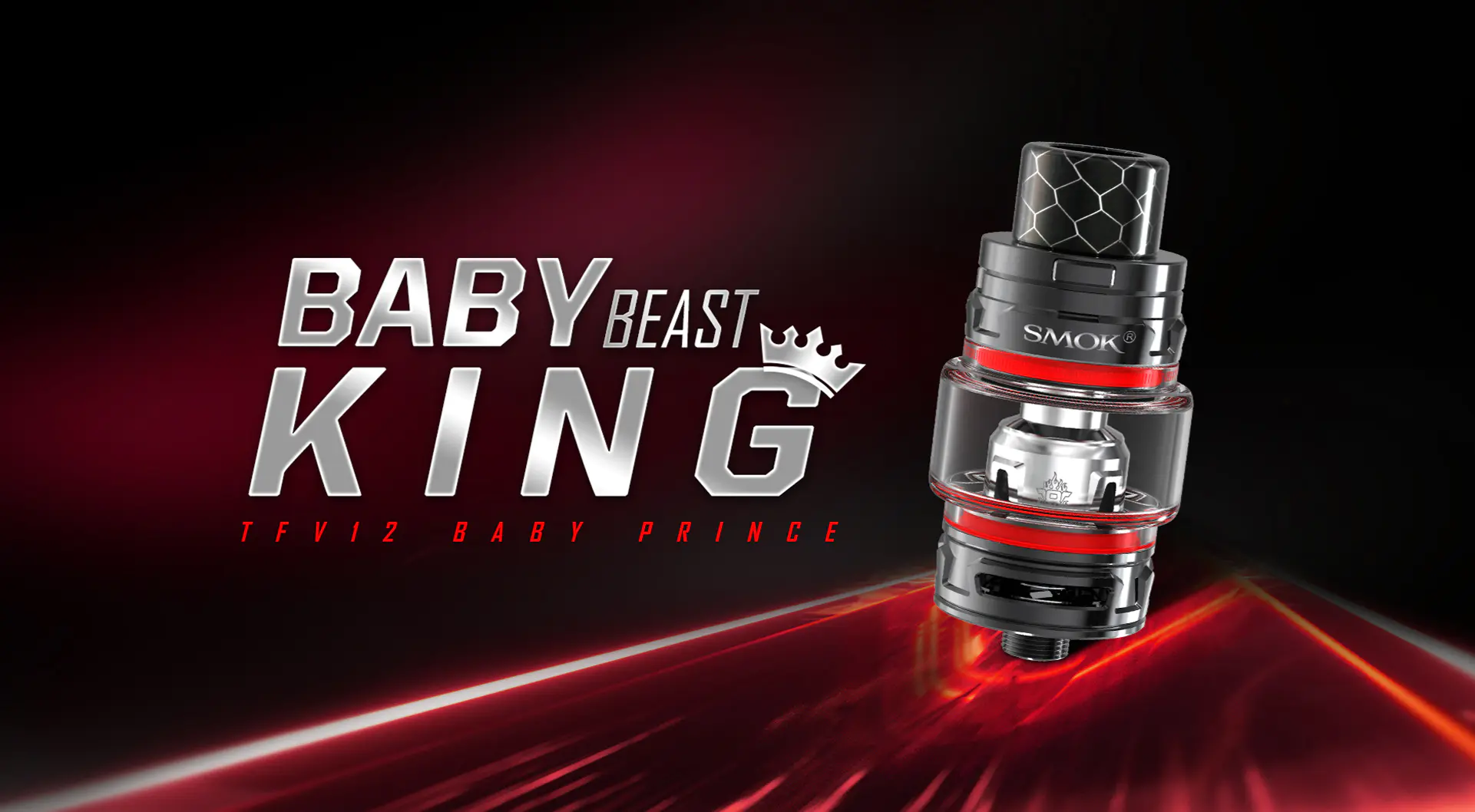 V8 BABY BEAST NEW COILS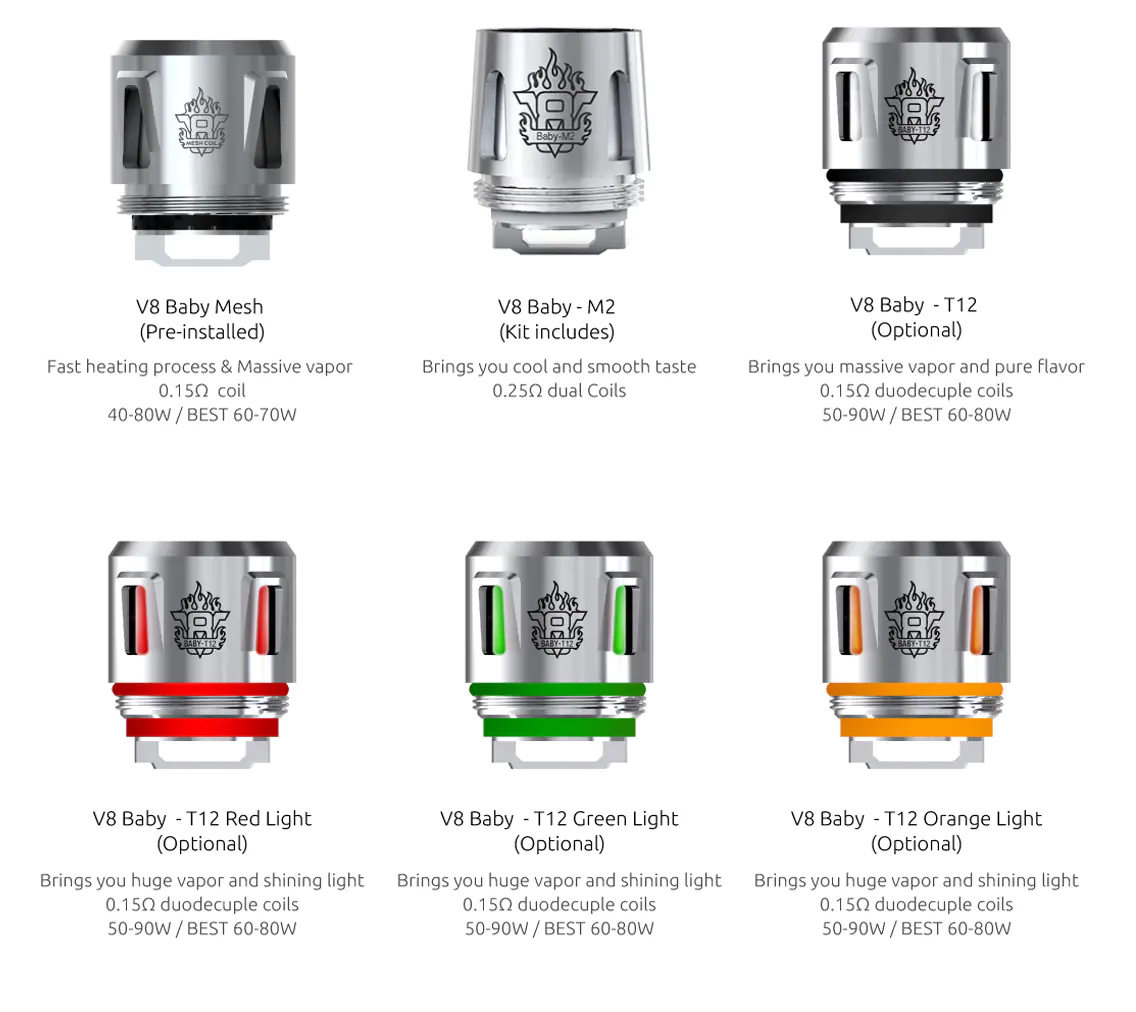 TOP REFILL SYSTEM
Top rotary refill makes filling a easy thing. Leak proof slot can significantly solve leaking problem.